It is rumoured that Erling Haaland will earn around £400,000 per week at Manchester City, with some estimates putting his basic salary as low as a paltry £360,000 and some as high as half a million pounds… every week! Whether you think it is right that a footballer earns more in a day than a doctor makes in a year is another question entirely but the fact is, market forces mean modern footballers earn vast sums of cash.
In truth, compared to boxers, who might earn tens of millions for a single fight, Hollywood stars who bring in similar sums for making one film, or hedge fund managers who might have annual earnings in the billions, one could argue footballers are underpaid. And at least they bring us joy and excitement. Anyway, all this filthy lucre has to come from somewhere and whilst the vast majority comes from TV broadcasting deals and sponsorship agreements, much of it comes directly from the fans.
Gate receipts are often dismissed as if they are barely worth bothering with but match day tickets and hospitality packages do contribute significantly to overall revenues clubs earn. In this article, we look specifically at the cost of season tickets, focusing on how much they cost and how important they are to football clubs.
Cost of Premier League Season Tickets
We will start by exploring the cost of season tickets in the self-styled best league in the world. Given recent performances by the top sides in the Champions League (the EPL has had at least one club in the final in each of the past five seasons, whilst we have seen two all-English finals in that time too) that claim may well be true. What is certainly true is that the Premier League is the most-watched league in the world.
Hundreds of millions (if not billions) of fans tune in every week but only a tiny proportion of those are lucky enough to watch from inside the stadium. How much do they pay for that privilege? Let's take a look.
Of course, there is a great deal of variance between season ticket costs, both between clubs and within them. There is a vast difference between the most expensive ticket in the best part of the ground at an expensive club and a concessionary ticket in a cheap stand at a more competitively priced club. For that reason we will cover a range of tickets, starting with the most expensive the Premier League has to offer.
Most Expensive Premier League Season Tickets
The chart below gives us a flavour of what the very top end looks like, the most expensive, full price tickets, at all of the Premier League clubs. Note that this data is drawn from the 2020/21 season and that Arsenal's (frankly insanely expensive) top-priced season ticket includes credits for seven cup games.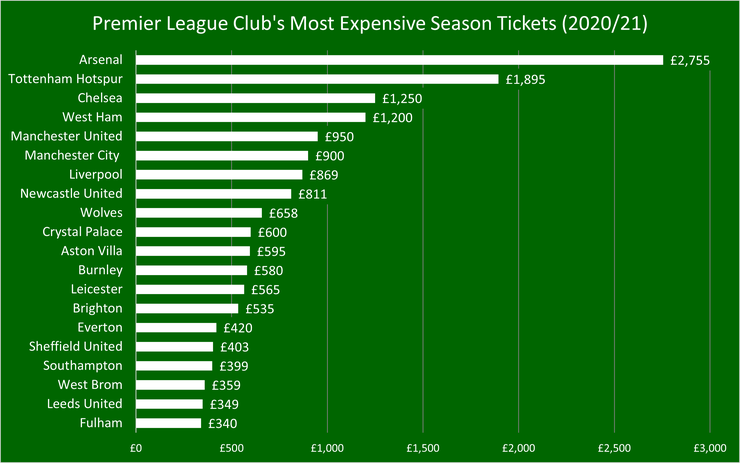 It is little surprise to see most of the best sides in the land high up on this table. Market forces dictate that those who can afford to see any side play will want to watch the finest football teams. Moreover, virtually all clubs have a small number of wealthy fans who can happily afford such tickets.
It should be noted that these expensive tickets are still just standard tickets that include entry only. All that differs is the angle of the view and possibly the quality of the seats and legroom.
Cheapest Season Tickets In The Premier League
Getting hold of the cheapest tickets will not be easy at most clubs but there are more affordable options for some. The chart below details the cost of the cheapest full price adult season ticket at each of the EPL clubs for the 2021/22 season. Obviously this is different data to that above, featuring some different sides and accounting for inflation following the 2019/20 and 2020/21 seasons.
At the cheaper end of the spectrum, therefore, we can see that Gunners fans will still have to pay almost £47 a game. That might seem like a bargain when we compare it to the most expensive ticket offered at the Emirates but it is still a very hefty sum for many fans. In contrast, in an even more modern stadium in the same city, West Ham fans are being charged just £16.84 per game. Four of the so-called Big Six teams have the most expensive "cheapest" season tickets, though there isn't much difference between Chelsea at £595 and Man United, 14th on our list, at £553.
At the other end of the table Leeds, Leicester and Aston Villa fans can all get to see 19 Premier League games for less than £400. That's a real steal but surely the best value in the Premier League comes at the Etihad. For just £325, or about £17.10 per game, City season ticket holders can watch arguably the greatest side the division has ever seen week in, week out, enjoying superb football, modern facilities and the genius of Pep's masterclass.
Whilst we can understand the commercial sense for high prices, we feel clubs have a duty to their supporters to make at least some of their season tickets more reasonably priced. Many fans, especially those that would want to visit as a family, simply cannot afford the huge amount of even the cheapest option at the two north London clubs and to a lesser degree Liverpool.
Concessionary Tickets
Thankfully many clubs do offer deals for children, families, older people and/or those with other needs. This can make season tickets more affordable and far more accessible to many but again this varies very much from club to club and season to season.
Everton, who generally fare well in terms of their pricing, have long led the way in this regard. They have a host of concessionary options for the 2022/23 season, one of the most impressive being that existing season ticket holders aged 90 or over can renew for free for the club's remaining time at Goodison Park. It was not disclosed how many supporters this benefitted but it is still a nice touch.
In addition, the Toffees also offer reduced price season tickets for those aged 65 and over (£330), two "Young Adult" bands (22-24 at £410 and 18-21 at £330), Junior (11-17 costing £180) and kids (10 or younger at £125).
Similar schemes are available at all clubs to greater or lesser extents, though few, if any, are as generous or have as many different bandings as Everton's. Spurs, for example, have a full adult price, as well as categories for seniors, juniors and young adults, though certain sections of the ground are only available at full price. Man United's most expensive season ticket (£950 as detailed above) is £380 for those 17 and under, and for those 65 and over, or £712.50 for young adults (18-20). Chelsea, one of the most expensive season tickets in general, also offer good discounts (generally around half price) for both seniors and juniors and this is available in all parts of the stadium.
Does Season Ticket Income Matter To Clubs

We have already noted a tendency in some quarters to disregard the income a club generates from ticket sales and season tickets in particular. However, with the biggest clubs (in terms of stadium size) having a huge number of supporters shelling out hundreds of pounds each season it is clear this money is substantial. Man United have, according to their site, "more than 50,000 season ticket holders", Arsenal sell around 45,000 season tickets, West Ham approximately the same number and even clubs like Newcastle and Everton have more than 30,000 season ticket holders.
Obviously the exact amount of money generated by such sales varies from club to club and year to year depending on the precise number of tickets sold and the price. Clubs do not generally release the exact financials of this as it is normally grouped in with other revenue streams. Man United have, in the recent past, made over £100m per season from what they list as "Matchday" in their accounts.
It is unclear how much of that is specifically from "normal" (non-hospitality-based) season tickets but it is safe to assume the figure would be in the tens of millions. Arsenal gave an average season ticket price on their site when launching the new prices for the 2022/23 campaign. They stated that should they qualify for the Champions League the average season ticket would be £1,268. If we assume they sell 45,000 season tickets, that means the club would generate around £57m from season ticket sales.
Given their total revenue was stated as £327m for their most up to date accounts, it is clear that season ticket holders contribute hugely to the club's finances. The figures will vary hugely at other clubs with much cheaper prices and fewer fans but even so, it is obvious that this income is very important to Premier League sides.
Season Tickets Elsewhere In England
Of course there is far more to English football than the Premier League so how do prices compare in the lower divisions. Much depends on what clubs are outside of the Premier League as there is a big difference between what a club like Newcastle might charge and what the likes of Barnsley or Burton might. As ever, figures vary from year to year and club to club, with all the teams likely to have various concessions in place too.
However, unsurprisingly season tickets in the second tier are generally much cheaper than they are in the Premier League. The table below gives just a brief summary of some of the Championship costs but illustrates the point well enough. Note that prices are the cheapest standard season ticket offered, followed by their most expensive and information was from the 2021/22 campaign.
Club
Cheapest Season Ticket
Most Expensive Season Ticket
QPR
£225
£588
Huddersfield
£249
£329
Cardiff
£249
£479
Sheffield United
£357
£543
Preston NE
£400
£535
Middlesbrough
£420
£645
Bournemouth
£550
£760
Fulham
£399
£809
It is no real surprise to see two sides that had recently been relegated from the top tier having the most expensive season tickets, especially with both Fulham and Bournemouth being in the south of the country. In general the difference in pricing is more marked at the higher end of the spectrum, with very few Championship sides charging more than £550 for their most expensive option.
How Do Season Tickets Compare Around The World?
So, we have looked at the top two tiers of English football but what about season tickets beyond England? Germany is a great place to start because much is made of the way their clubs are at least partly fan-owned and how this translates into excellent value in terms of ticketing cost.
For the 2019/20 season it was calculated that the "average cost of a standing season ticket at a Bundesliga club this season is €186.25" which at 2022 exchange rates equates to around £160. That has to be seen as staggering value when compared to just about any season ticket in the Premier League.
What's more, it is not a figure that is skewed lower by very cheap tickets for the country's poorer sides. Incredibly serial winners of the Bundesliga crown Bayern Munich offer the joint-cheapest season tickets in the German top flight. Admittedly there are only 6,800 of these standing season tickets available but paying around £130 to watch FC Hollywood all season does seem rather better value than around 10 times that for lesser sides from the EPL.
In La Liga, things are a little more familiar, with prices not too dissimilar to those of the Premier League. Analysis from 2017 showed that Real Madrid were charging up to €1,840, with Villarreal, somewhat surprisingly, next on €1,600, Valencia's most expensive season ticket coming in at €1,400 and a number of other clubs all charging over €1,000, including Barcelona (€1,097).
The cheapest tickets were very reasonable though, with even Real offering season tickets from €223 and the cheapest in the division starting at just €150 (at Malaga). 2017 is a long time ago though, relatively speaking, and La Liga was especially badly hit by playing behind closed doors, with Barcelona's well documented financial issues an indication of that.
Normal inflationary pressure, plus the very extraordinary events of 2020 and 2021 (and 2022…) have seen many clubs really hike prices. For 2021/22 the most expensive season ticket for the Santiago Bernabeu would set you back €2,127, with the cheapest now €293. Villarreal have actually seen no increase to their most expensive option, though other prices have gone up.
Elsewhere prices vary enormously around the world, with Serie A notable for their relatively low cheapest options but very expensive seats at the top end. For the 2022/23 season, for example, AC Milan had standard-priced season tickets ranging from €385 right up to €3,200. That is a huge difference but does at least mean that there are some affordable tickets for fans, whilst Milan's glitterati can revel in the best seats in the house.